Friends place a great deal of importance in the simple, age old process of shaking hands. At the end of Meeting you may shake hands with an old
acquaintance,
or a complete stranger, it depends on who's sitting close to you, that's the very best reason for doing it! Should we not, as a group 'Quakers' take time to shake hands with other religious groups that share at least some things with us? Are some other churches close enough to our values to sit with us and share with us? Are their more opportunities for joint action on social issues and can we draw inspiration from religious heritages other than our own?
Looking for possible 'common ground' two churches seem to have potential as
natural
allies.The Mennonite Church sits close to us, we share a long history of non-
aggression, o
pposition to war and
peaceful resistance
with them and many other factors of common heritage. Friends should have no problem in looking fondly at Mennonite communities and accepting the differences, as well as the similarities in a spirit of love and co-operation. On the other side of us sit the Unitarian Universalists. True, some Friends would have more in common with them than others but, they do share much of our concern with putting faith into action f
or social good and we are both 'broad churches' which not only tolerate, but positively celebrate diversity in our respective memberships.
In the UK Friends and Unitarians have a good tradition of co-operation in fields of
same-sex marriage
campaigning and
nuclear disarmament
lobbying, while historically American Friends and Unitarians had a long tradition of co-operation in fields of women's suffrage and abolitionism with individuals like
Susan B Anthony
coming strongly to mind.
The seven principles, which Unitarian Universalist congregations affirm and promote, would not find many Friends in disagreement I trust (please let me know if that's not the case). They are;
The inherent worth and dignity of every person;
Justice, equity and compassion in human relations;
Acceptance of one another and encouragement to spiritual growth in our congregations;
A free and responsible search for truth and meaning;
The right of conscience and the use of the democratic process within our congregations and in society at large;
The goal of world community with peace, liberty, and justice for all;
Respect for the interdependent web of all existence of which we are a part.
Direct experience of that transcending mystery and wonder, affirmed in all cultures, which moves us to a renewal of the spirit and an openness to the forces which create and uphold life;
Words and deeds of prophetic women and men which challenge us to confront powers and structures of evil with justice, compassion, and the transforming power of love;
Wisdom from the world's religions which inspires us in our ethical and spiritual life;
Jewish and Christian teachings which call us to respond to God's love by loving our neighbours as ourselves;
Humanist teachings which counsel us to heed the guidance of reason and the results of science, and warn us against idolatries of the mind and spirit.
Spiritual teachings of earth-centered traditions which celebrate the sacred circle of life and instruct us to live in harmony with the rhythms of nature.
Before I upset any body let me say that I do not think that Friends should become Unitarian Universalists nor that Mennonites should become Quakers or that anybody move out of the tradition to which they belong and love and move to another. Let us, however, take the time to 'shake hands' with these groups and remind ourselves about what we might share in a spirit of love and understanding. Where possible, let us work with them to help attain our common goals. As a first move why not try to make 'friends' with Mennonites and Unitarian Universalists on social networking sites (many of both on Twitter) or you could even try shaking hands with those that you might just find in your neighbourhood!
I came upon this essay, by a Unitarian Pastor, about the differences between Quakers and Unitarians and found much to think about in it; please give it some time.
~
"There is a story told about Martin Luther when he was a young preacher. Luther used to write out his sermon and then read the text to the congregation. One day, a man approached Luther and said, "You shouldn't preach from a prepared text. Instead you should simply go up into the pulpit and let the Spirit speak through you." Martin Luther replied, "I did that once. I went up to the pulpit and I heard the spirit say, 'Martin Luther you should have prepared a sermon.' "


"It might seem odd to begin a talk about Quakers and Unitarian Universalists with a story about Martin Luther, the founder of the Lutheran church. But I think the story helps to illustrate one of the differences between Unitarian Universalists and Quakers. The early Quakers were like the man who challenged Luther. They wanted their sermons to be spirit filled, straight from the heart and without a prepared text. Early Unitarians and Universalists (and certainly modern ones) would have more sympathy with Luther's approach to sermonizing. And one of the ways you can tell I'm a Unitarian Universalist is that I stand before you with a prepared text for this morning's sermon. However, it is my hope that the spirit can speak through a prepared presentation also. And that this talk about Quakers and Unitarian Universalists will in some sense help to deepen our spiritual as well as our intellectual lives."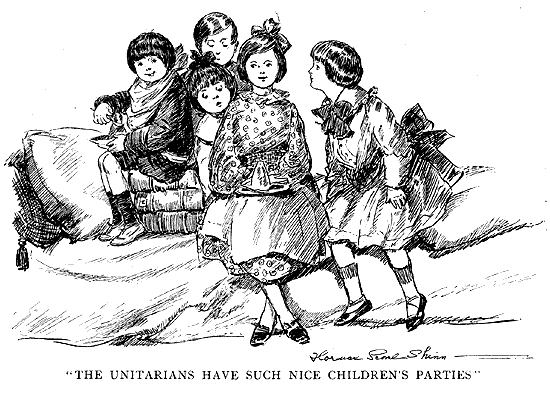 More about Mennonites;
More about Unitarian Universalists;